Is Your Car Ready For The Snow?
It's finally time to start digging out your sweaters, boots, mittens, and extra blankets that you stasged away this Spring. The trees are changing color and pumpkin spice lattes are your beverage of choise these days. It truly is a beautiful time of the year. Enjoy the crisp air and seasonal treats, but be warned, the now is coming! It won't be too much longer before cold, wet, slippery snow takes over.
Think back to last year when the snow and ice started to build up on the roads. If you had a tough time getting around in your current car, do you think this winter will be any better? Probably not. In fact, from all indications it's going to be a brutal winter and there's going to be more snow and ice this year. Your car has gotten you where you need to go throughout the summer, but is it the best choice for winter driving?
Here are a few ways you can tell if you need to get a new car for winter:
You Need Reliable Transportation - You rely on your car to get you to work, run errands, and taxi the kids to school and all their extra-curricular activities. If your car has trouble starting on a warm, sunny day, it's not going to get any better when the weather gets bitterly cold. You can't afford to miss work and you don't want to disappoint your kids. A new car will solve those problems and you'll be the hero.
Your Car is Getting Old - Driving a classic car from the 50's, 60's, or even 70's is awesome, especially if it's restored to its former glory. It's not so great to be driving around in a 10, 20, or 30 year old car that has seen better days. It may be paid for, but it's continually in need of repairs. Instead of dumping more money into a beat up beast, buy a new car and put the exrea money towards a vacation.
You Don't Have AWD - Even though New Hampshire doesn't get mountainous levels of snow, it's not uncommon to have a few feet of accumulation. It's easy to get stuck in a snow drift, or on an icy surface if you're not careful. Front wheel drive and four-wheel drive won't help much, you need an all-wheel drive (AWD) model to get through.
Your Heater Doesn't Work - It didn't matter to you that your car's heater wasn't working during the summer months. Now, it's a really big deal. Frosted windows and seats so cold your bottom freezes aren't the best ways to start out your morning commute. Maybe you could get it repaired, but a new car without heater problems would make you happy, wouldn't it?
Your Current Car is White - Snow is white, and if your car is white too, how are you going to be visible to other drivers? Worse yet, how are you going to find it in a snowy parking lot, or even in your own driveway? Your boss isn't going to buy the excuse that you couldn't find your car too many times. Don't risk it. Buy a new bright red, blue, or yellow car that will stand out even in the worst white-out conditions.
You Drive a Sports Car - You look great sitting behind the wheel of your fast sports car. Cruising down the highway, or back roads, you feel like a million bucks. That's great when the weather is sunny and warm, but when a couple of inches of snow coats the roads, you'll be singing a different tone. If your car sits low to the ground, you're going to get stuck and instead of looking cool, you'll be looking the fool.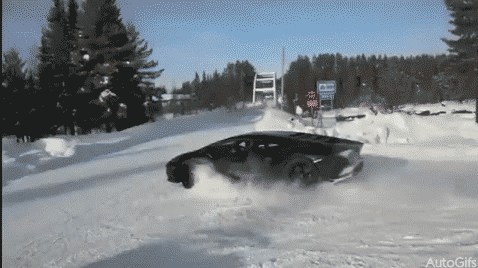 Why Winter Car Buying Makes Sense
You might be thinking that you'd be better off holding on to your current car until spring, after the holidays to make the investment in a new car. You might be able to deal with the lack of heat and you're pretty good at maneuvering in the snow. But, what you may not realize is that winter is actually the best time of the year to buy a new car for a few reasons.
Car Dealership Quotas - October, November, and December are traditionally the best months of the year to buy a new car because dealerships are trying to fill their sales quotas. During the final quarter, they're trying to fill in gaps in their annual sales quotas and bring their numbers up to acceptable levels. You're more likely to get a great deal now than at any other time of the year.
New Models are Coming - Car dealerships are keen to get rid of this year's models to make room for the newest ones coming in. They're desperate to sell off this year's inventory and are willing to make deals they wouldn't have at the beginning of the year. That means you can get a really good price on a brand new car without having to do much negotiating.
Holiday Sales & Incentives - Just like the retailers who are vying for your attention during the holiday shopping season, car dealerships love to put on a good sale. They've even started to jump on the Black Friday craze by offering deep discounts and incentives to lure buyers in. Want a really great deal? Try car shopping on New Year's Eve to capitalize on their need to meet end-of-year sales goals.
At Bellwether, we understand how important it is for you to find the right car for your winter driving needs. That's why we've partnered with some of the best local car dealerships around to make the process easy and stress free. Once you've found the car of your dreams, we'll make it easy for you to apply for an auto loan that fits your budget. That's right, you can search, shop, and finance your next new car all in one convenient spot and you can count on us to help you every step of the way. And once you've found your new car, Bellwether offers Guaranteed Asset Protection to keep your mind at ease even after your purchase.