Who We Are
For over 100 years, Bellwether Community Credit Union has proudly served New Hampshire. From day one we have been deeply rooted in our community, and throughout the years Bellwether has adapted and diversified to meet consumers' ever-changing needs and wants. We've succeeded for decades because we listen, we get involved and we are loyal to our members. These are the same principles that our founders operated under.
Since 1921, we have grown to serve anyone living or working in New Hampshire along with Essex and Middlesex counties in Massachusetts. Through our growth, we have remained committed to delivering exceptional financial solutions with extraordinary personal service.
Anyone living or working in New Hampshire or Essex and Middlesex counties, Massachusetts can join Bellwether.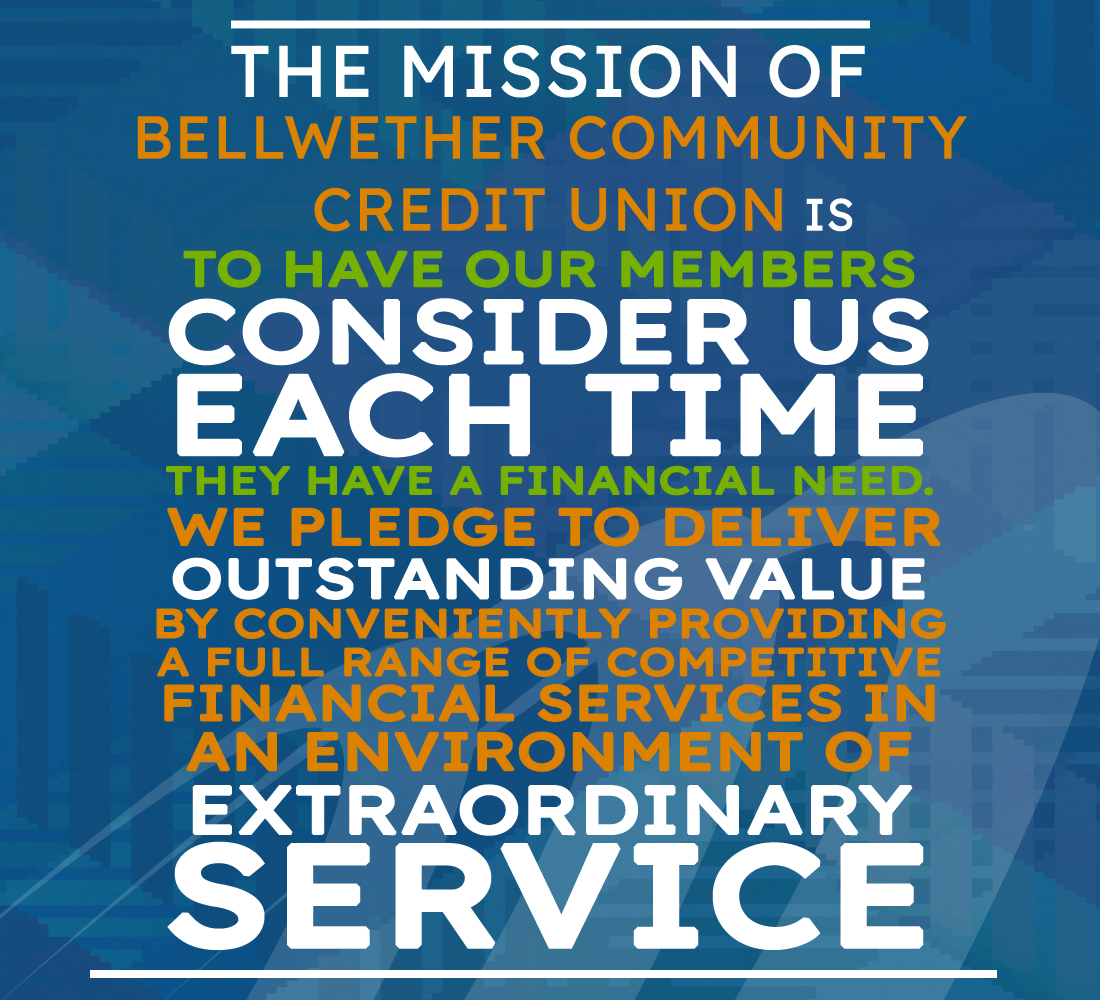 Our Mission
Our mission is to have our members consider us each time they have a financial need. We pledge to deliver outstanding value by conveniently providing a full range of competitive financial services in an environment of extraordinary service.
Our History
It all started in 1921 with a small group of Bell Telephone System employees who, acting independently of their employer, created Telephone Credit Union of NH, originally located on Concord Street in Manchester and run by volunteers in the early years.
In 1965, Richard D. Mahoney was hired as the first official employee of the credit union. In 1976, Dick Mahoney was elected President of the Credit Union, a position he held for 25 years.
In 1991, our current facility at 425 Hooksett Road became the main office of Bellwether. In 2001, we received our charter to provide membership to anyone living or working in New Hampshire. 2001 is also the year that Michael A. L'Ecuyer was appointed President/CEO.
In 2004, Telephone Credit Union of NH merged with Greater Nashua Federal Credit Union and added our second branch location in Nashua. In 2005, the Credit Union changed its name from Telephone Credit Union of NH to Bellwether Community Credit Union (BCCU). The credit union continued to grow and in June 2006 the members of the Compass Credit Union voted to approve a merger with BCCU adding our third branch on Valley Street in Manchester. The Valley Street branch closed in 2011, but we opened our Bedford branch in early 2012 and new branches are being considered for future growth.
In the Fall of 2019, Michael L'Ecuyer officially retired and Nathan Saller was appointed President/CEO. Today, we are proud to provide our products and services to families and businesses across the state of New Hampshire as well as Essex and Middlesex counties in Massachusetts, with a total membership that exceeds 34,000.