New vs. Used Car: Reasons to Buy
If you're in the market for your first or your next vehicle, deciding between new and used can be a tricky choice. There's something reassuring about a brand new vehicle that has never been driven by anyone else, with everything from upholstery to engine in its optimal condition. However, new vehicles can be pricey. Used vehicles are much more affordable, but you're also purchasing a vehicle that has been driven by somebody else—and possibly driven harshly, with future pricey repairs lying in wait.
Before you start running some numbers in a car loan calculator, here are a few things to consider when looking at a new vehicle vs. a used one:
Reasons to buy new
New cars take advantage of the latest technology (eg. rear back-up cameras or hybrid fuel options.)
New cars come with warranties—you'll be worry-free from major repair bills for the first two or three years.
New cars sometimes qualify for better financing options such as a lower interest rate or a cash-back offer.
Bellwether offers the same rate for new or used cars.
Your budget allows for a new car.
Reasons to buy used
Used cars are generally cheaper than their new counterparts.
Used cars sometimes can have remaining warranty transferred to the second owner.
Used cars sometimes (depending on the age and type of engine or features) can be cheaper to maintain or repair.
Used cars often are cheaper to insure.
Narrowing your vehicle search
Before you start your vehicle search research, you'll need to track your research. You can create your own spreadsheet, or download this one as a starting point: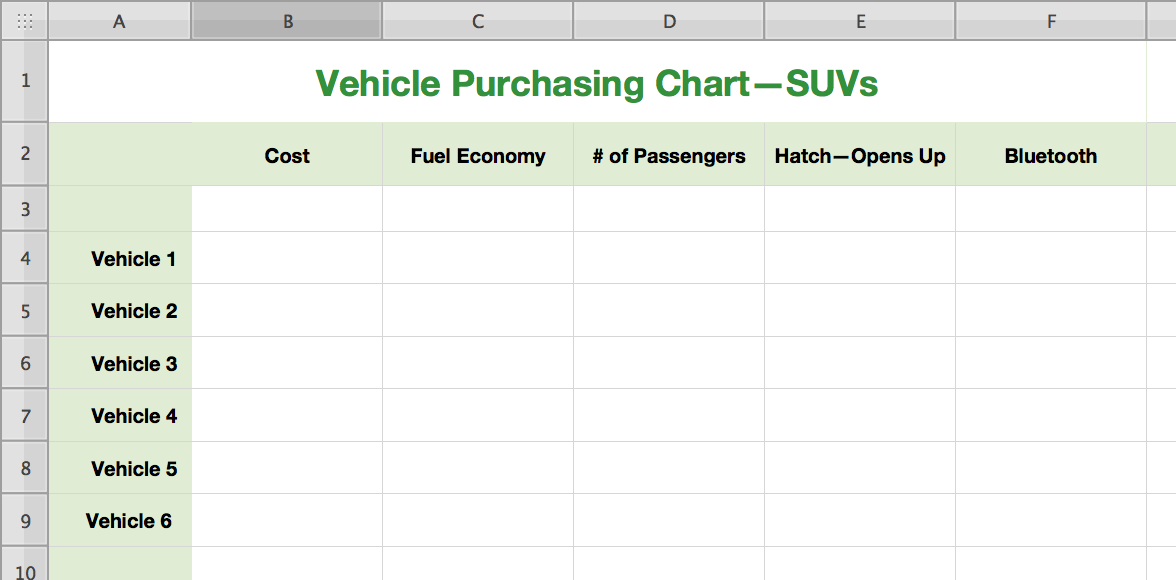 Click the image to download this spreadsheet to track your research.
Then you can dig into the research:
Check out the websites of the major manufacturers—Chrysler, Ford, General Motors, Honda, Kia, Mazda, Toyota, Volkswagen, etc.—and note which models fit the kind of vehicle and features you're looking for. Add them to your spreadsheet.
Research the models you're interested in on the Internet. For example, which ones cost more to repair, or seem to need more repairs? (Some imports cost more for parts than domestically-manufactured vehicles.)
Fill in each column for each model on your spreadsheet.
Buying the best new or used vehicle
Once you know the kind of vehicle that best suits your needs and budget, you can begin your search for your vehicle. You can search a new or used car dealer's website to see what they have in stock (phone and ask, if you don't see it online—not all dealers list all their used inventory online,) and then visit their showroom to get a real feel for the vehicle and how it drives. What does it cost? What warranty (if any) comes with the vehicle? Note everything in your spreadsheet, including your impression of how the test drive felt, how your passenger(s) felt (it's always a good idea to bring along a friend for a second opinion,) and how the interior features were to operate.
TIP: If you let the dealer know you're a Bellwether Community Credit Union member, you may be able to get your Bellwether loan right at the dealership!
If you're looking to buy a used vehicle privately, search your local printed or online newspaper classifieds, or selling sites such Craigslist. Arrange to view and test drive the vehicles that fit your needs and budget. Ask questions, such as how up-to-date the regular maintenance record is, and if it's been in any serious accidents. Make note of the VIN or serial number so you can check it later on a website such as Carfax, AutoCheck or the free VINCheck from the National Insurance Crime Bureau.
Help and car loan financing from Bellwether
Whether you've decided on which works better for you—a new vehicle or a used one—Bellwether has options to help you with the financing, as well as handy online tools from loan calculators to car value assessments to help you narrow down your search. You can even apply for a loan online right here! And once you've found your new car, Bellwether offers Guaranteed Asset Protection to keep your mind at ease even after your purchase.