Holiday Scams to Avoid
'Tis the season to be jolly! 'Tis also the season when the Scrooges and Grinches of the world come out and try to ruin the jolliness for the rest of us. The prospect of coal in their stockings apparently isn't a big enough deterrent for these holiday humbugs from trying to scam you. With most people's money being tied up in gift buying or vacations, it really is not an ideal time to lose any of it to con artists. It's important to be eduated on the different schemes these scammers have hidden up their sleeves so you can avoid donating to their nefarious holiday fund.
Here are some helpful tips to get you through the holidays un-Grinched: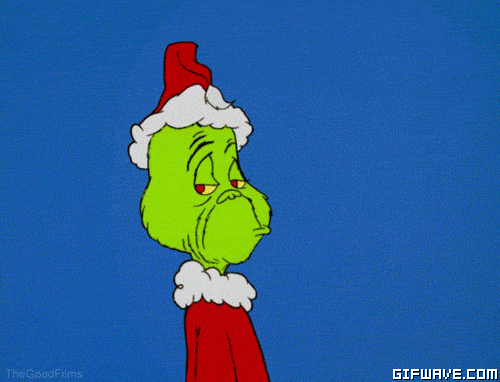 Sign up for transaction alerts. If this is not available, be sure to stay on top of your transactions by monitoring your account and reporting any suspicious activity to your financial institution.
Think before you click! This should probably be added as the 11th Commandment, as this rule doesn't just apply during the holidays but all year round. And I don't just mean with emails, be wary of online ads, applications, eGreeting cards and basically anything else on the internet. Cybercriminals (what a term) mimic legitimate content, making it difficult to detect, so keep an eye out for slightly altered URLs.
Don't trust a site or name you don't know and don't fall for the "too good to be true" prices.
Use payment models that offer tokenization (the process of replacing sensitive data with unique identification symbols that retain all the essential information about the data without compromising its security). Many mobile wallets offer mobile, online and in-person settings that include tokenization.
Have unique, complex passwords for sites that store your information and change your passwords frequently.
Be cautious of the charities you are giving to online, in-person, and over the phone. It may be best to avoid donating to collections over the phone in general; instead, ask for the charity name and find them online.
Ensure home computers, laptops, and tablets are protected with antivirus, anti-spyware and a firewall.
Look for ATM and gas pump tampering, skimmers, or shimmers. Do NOT use the ATM or gas pump if you suspect tampering.
If you're looking to make extra money, and read our previous post How to Earn Money Online, you'll also want to arm yourself against the sneaky Grinches and Scrooges who want to be your "employer" and give you that "dream job," or they build your trust through social media and dating apps to the point where you might think you have a long distance "boyfriend" or "girlfriend" who's just down on their luck. Here are some surefire ways to lose money online:
No legitimate business person ever needs you to use your personal credit union or bank account to deposit their business income or to help them get their business started. This is a scam and they will want you to send most of the money in gift cards or through money services.
No overseas business needs a US consumer to help them receive funds from their legitimate business activities. You are helping a bad guy do bad things, and you're likely to lose your real money in the process.
No legitimate business sends you large "blank checks" to deposit and buy your office equipment, but they send too much and ask you to send back the extra in the form of Walmart gift cards or postal money orders. This literally NEVER happens in real life, legitimate business.
You are not going to marry a princess from a foreign country who "just needs $6,000 to get her VISA and passport squared away." She is never coming to see you. She is not real. Go ahead and Google her name, I guarantee she probably has a lot of warnings about her online. Also watch out for the down-on-his-luck gentleman who just needs plane tickets to come ride off into the sunset with you. Just repeat after me: "A potential romantic relationship does not involve my bank account numbers."
You didn't win a foreign lottery if you've never been to that country and you've never purchased a lottery ticket. I wish it was true for you, but it's not going to happen. This is always going to involve you needing to "pay taxes" first by wire or gift cards or money order.
No matter how much you want the romance to be true/your luck to change/your dream job to fall into your lap, these stories are too good to be true.
Take your emotions out of the decision by asking those you trust - your credit union or bank can help you stop these fraudsters.
There you have it, some helpful tidbits that should keep you safe from all of those on the naughty list. For more information on the different kinds of scams that pop up during the holidays, check out this article by NBC News or this one from AARP. From all of us at Bellwether, have a very happy (and scam free!) holiday season!